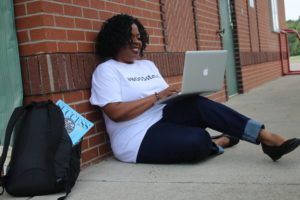 Usually by now, I would have my vision board completed and deciding what goals I want to accomplish for the year. I am currently reading The Desire Map by Danielle LaPorte. She discusses having it all and not having the feeling that she desired.
I can relate to what she described because I have been in that place. Chasing after the trappings of success but feeling empty. I remember waking up out of a deep sleep on November 14, 2015 and feeling empty as hell ( will hell be empty?).
On that morning, I realized that I had been waiting for life to happen for me instead of me making life happen. When I really looked at my goals, it was not about the stuff or things that I accomplished. It is how I want to feel every day and at the end of my life.
Danielle LaPorte discusses the difference between feelings and emotions. "Feelings are direct energetic responses to experiences. Emotions are feelings that have a mental component added (p. 47). I realized that I wanted to experience freedom and love. I learned that I was not alone and that most people want to experience freedom and love.
Ask me how I know, as I continue to read The Desire Map, the writer shares the responses from a survey she completed on social media asking people what they want to do, have and experience. Freedom and wanting to experience love and romance were the main responses in some form or another (p. 112-113).
When I looked at my goals, it was not about what I would accomplish at the end of the day – it was more about how I want(ed) to feel. When I reviewed my goals from previous years and continued in reflection – I saw the theme of wanting to be married (love and adored), weight loss (self love) and business ownership (freedom).
You know 2016 brought me those feelings in some way or another but not how I imagined. I opened myself up to feel love (not exactly with the ending that I desired – Ismael had to come before Isaac), and I experience freedom (I get to do what I am purposed to do in my business – helping others connect to who they are and their purpose so they can live their BEST life).
So the question is "What do you want to do, have and experience?"