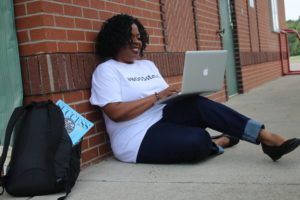 As we stand on the edge of ending 2016 and approaching the beginning of 2017, I have taken some time to reflect and review.   2016 has been a year of self-acceptance and growth for me. I will not say that it was the best year of my life, but it was the most liberating year thus far.
Some of the pivotal lessons that I learned:
I learned to love myself. I came to the realization that I was chasing love from outside of myself when love is intrinsic served to be quite eye opening. One morning I looked in the mirror and said, " Lacrecia, I love you from the top of your head to the bottom of your feet. I love you!" This was a life changing moment.
Who Am I? is a question that can be answered with who I am. This was a revelation placed in my spirit and it gave me such freedom because I have been on a journey to self for so long. I have been on a constant search for the answer to Who am I but realized that who I am is truly the answer.
Who and How are the same letters but have different impact. I realize that when I focus on the who of God and allow Him to handle the how – things flow so much better.
We all have the right to choose and everyone has a choice. If I am not the one chosen does not mean that it is something wrong with me, I was not that person's choice. We all have preferences.
Two of my greatest fears came to pass on the same day and I survived…falling in love with the wrong person and not being chosen and having to file for bankruptcy. I learned that I truly don't have to have a lot to experience freedom.
God will present you with a look like situation to prepare you for the promise. He took me to Genesis and reminded me that Ismael had to come before Isaac (the promised one).
Continue to show up even when you are the only one showing up.
I am not a hobby owner – I am a business owner when means that I have to operate like a business.
Highlights
I turned 50!
I attended Lisa Nichol's Abundance Now Live Event.
I was able to travel to three new places- Punta Cana, DR; San Diego, CA, and Tampa/Sarasota, FL.
Met some really great people by continuing to show up.
Gained greater clarity on my values so that I can live them Faith~Family/Friends~Freedom
What are some lessons that you learned and what were your highlights?
Lead and Live A Liberated Life in 2017!
Be You and  Own It,
Dr. Lacrecia